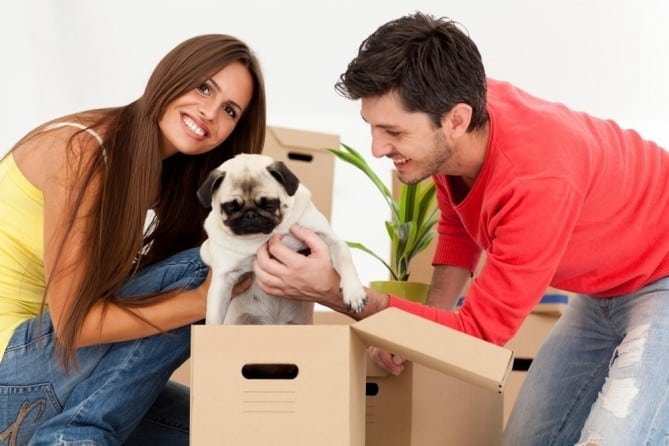 Moving with pets isn't exactly a walk in the park, but it's hardly a cat-astrophe either…
If you're looking to start a new life with your furry friends, you may want to think about coming up with a plan.
And by you we actually mean us…
(Who said moving was hard? Half of the job is done already!)
Moving house tips made easy
If you're reading this then it's already pretty obvious that you're A) considering moving, and B) have no idea how to keep your pets happy when the day comes.
Don't worry though, as we're more than happy to keep you ahead of the pack with these simple house moving tips for your pets…
Before the move
Moving with pets can be a stressful occasion – for both you and them. Cats and dogs in particular can become very attached to their territory, so they will require a lot of care and attention.
Help things run smoothly using these tips:
Just like humans, pets can suffer from travel sickness, so be sure to ask your vet about medication if you have to travel long distances

Remember to update their microchips (if they have one, which they totally should!) and register them with a new vet nearer your home

Have an identity collar with your name and contact number engraved on them so it's ready to be worn on moving day.
TIP: If you're moving into a rental property and you aren't sure of the rules on pets, then you may want to go ahead and check before you start making plans.
During the move
I think we all know that cats are evil at the best of times, so don't doubt for a second they'll be scheming against you on moving day…
That's okay though, because this time you'll be prepared.
Pets can become quite skittish with all the commotion, so remember to take things one step at a time

Ensure that your pets are left inside when removals start and

keep them away from any valuables you are moving

Leave small pets in a quiet part of the house to keep them relaxed.
TIP: You're moving to Bolton, not escaping from Al-cat-raz. Even if Mr Whiskers suspects you're up to something, take it easy and don't over excite them.
After the move
Once you've finally settled in and unpacked that last box of 'essentials', you'll soon come to the realisation that you aren't the only one who's been involved in the move.
Before long your pets will not-so-kindly remind you of it. Especially the cat…
Animals aren't a big fan of changing environment, so you may have to give them a bit of time to adjust to their new home.
Some useful things you might want to consider, include:
Showing your pets where their new beds are and which rooms they're allowed in

Ensure that cats are kept inside for 24 hours and are well fed before you let them out of the house for the first time

Check that the garden is secure and free of debris – your pets could escape or injure themselves

Keep up with your normal routine to keep your pets in check.
TIP: If you have a dog, make sure to take it for a walk immediately after you've moved in so that it can familiarise itself with the new area.
Moving home doesn't have to be as hard as you make it out to be. Simply follow these simple tips and you and your little friend will be settled in no time!
Just make sure you take into account your pets' needs and don't do anything that will make you end up on the RSPCA's most wanted list…
---
Pearson Ferrier are here to help!
If you're tired of running around like cats and dogs and want some professional advice, then why not let Pearson Ferrier help with your move?
As one of the UK's leading real estate agents, we know the ins and outs of moving home. So whether you're buying or renting, our expert advisers will be with you every step of the way to ensure the process is as smooth as possible.
For more information on how we can help, feel free to drop us a line at our head office on 0161 764 4440, or fill out our contact form with your details.