This month, we're giving you a sneak peek of some of the most viewed luxury Black Label properties we've had the pleasure of putting on the market – all based across Greater Manchester and Lancashire.
What are Black Label properties?
At Pearson Ferrier, our Black Label luxury properties offer a distinctive slice of elegance and luxury. Representing some of the finest residential offerings across Greater Manchester and Lancashire – these homes are bound to captivate you at first glance.
So sit back, and relax as we unveil this month's ten most viewed luxury properties…
Brook Lane Hollins – Bury – £650,000 – SOLD!
4 bedrooms, 3 bathrooms, 3 receptions
First up is this stylish, split-level, modern property that enjoys a privileged position on the edge of Bury Golf Course. The elevated location offers panoramic views across the stunning fairways, creating a serene and picturesque setting.
With only three properties on Brook Lane, this home stands out as an exclusive haven, while its proximity to local village shops and schools adds an element of practical convenience.
Although we're confident that the property's photos will convey its unique charm, it's worth noting that it has been particularly popular for viewings. This is hardly surprising to us, given the combination of its distinct allure and outstanding location!
Haig Road – Bury – £695,000 – Hot on the market!
4 bedrooms, 2 bathrooms, 2 receptions
Secondly, situated on Haig Road in Bury, this unique property was originally built in the 1970s and has been meticulously refurbished in 2022, resulting in a home that marries modern elegance with an imaginative twist. A standout feature is the property's rear gardens, which showcase a contemporary Japanese design, creating a peaceful and aesthetically pleasing outdoor space.
The property enjoys a prime location with easy access to Bury town centre, making it perfect for those who want to be near the hustle and bustle of town life. However, it also maintains a sense of seclusion – as it backs onto the tranquil Westbury Sports Club playing fields. This property is a true testament to the notion that you can indeed have it all…
Fletcher Fold – Bury – £700,000 – SOLD!
5 bedrooms, 2 bathrooms, 3 receptions
This magnificent period residence situated at the end of Fletcher Fold Road in Bury holds third place in our portfolio. Originally constructed for the Earl of Derby in 1716, this property is nestled within a hamlet of highly esteemed residences.
This home offers an abundance of space while retaining its period charm. The interiors are dramatic, with meticulously crafted fixtures that pay homage to its historical past. Due to its architectural significance and stunning preservation, the property has been granted Grade II listed status, a testament to its historical and architectural value.
It's not difficult to see why this remarkable residence has been given such an accolade. Its blend of historical richness and modern comfort makes it a truly unique and desirable home.
Heather Lea Close – Heywood – £550,000 – Hot on the market!
5 bedrooms, 2 bathrooms, 1 reception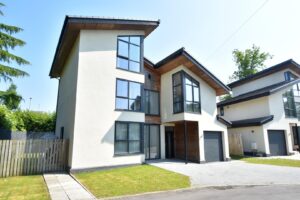 Holding the fourth spot is a modern and luxurious detached eco-home, comfortably nestled on a private road in Hopwood. Perfectly located, it offers easy access to both the tranquillity of the countryside and the buzz of Manchester city centre.
This property delivers a 'wow factor' at every turn. Set across three levels, it showcases up-to-date, high-end fixtures and fittings that bring together luxury and comfort.
Park Lane, Whitefield – Manchester – £700,000 – SOLD!
5 bedrooms, 2 bathrooms and 2 receptions
This stunning property sits in the heart of Whitefields residential district. With five bedrooms and a brilliantly sized plot – it combines a cosy and traditional feel with modern fixtures, including a newly fitted kitchen and dining room. With two garages, a first-floor landing balcony and five bedrooms – there's plenty of space here for families.
Holcombe Old Road, Holcombe, Bury – £750,000 – SOLD!
4 bedrooms, 2 bathrooms, 3 receptions
Nestled in the conservation village of Holcombe, this charming four-bedroom stone cottage offers panoramic views stretching from Ramsbottom to Manchester City Centre. Dating back to the 18th century, it features ample parking, a double garage, and versatile bonus space atop the garage, all surrounded by spacious gardens.
Greenmount Close, Greenmount Bury – £795,000 – Hot on the market!
5 bedrooms, 2 bathrooms, 2 receptions
Situated in the sought-after residential area of Greenmount, this striking five-bedroom detached house stands at the end of a cul-de-sac. The current owners have impressively upgraded the property, boasting a modern, stylish interior.
Within walking distance to Greenmount Primary School and local amenities, it's also a short drive to Ramsbottom, Bury town centres, and major motorways. The house features a living room, snug, family kitchen, utility room, and guest restroom.
Newchurch Roach, Rossendale – £695,000 – Hot on the market!
4 bedrooms, 2 bathrooms, 3 receptions
Next up, we have this delightful Rossendale detached farmhouse with stunning views over nearby farmland. It boasts a large open-plan farmhouse kitchen, an office in a converted dairy, a detached double garage, and ample parking. The property also enjoys generously sized gardens and is conveniently located near Rawtenstall town centre and major motorways.
Moorside Road, Edgworth – £1,300,000 – SOLD!
4 bedrooms, 3 bathrooms, 3 receptions
This is a remarkable four-bedroom detached barn conversion, sitting on approximately seven acres of land with a stocked trout pond and offering extensive south-westerly countryside views. The home features a high-quality interior, an oak-filled finish, extensive parking, and a detached double garage.
With vast lawns, patio areas, paddocks, and potential barn space, it delivers a private, countryside living experience. This stylish property includes a fitted farmhouse kitchen with an Aga and a master bedroom with an ensuite.
Kibboth Crew, Ramsbottom – £1,100,000 – SOLD!
6 bedrooms, 5 bathrooms, 4 receptions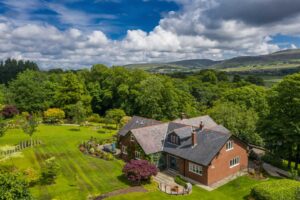 Finally, we have to confess – this property was actually sold in January – but we couldn't not include it on our list. This is a sizable six-bedroom property nestled in well-maintained gardens extending over four acres. This private yet conveniently located home boasts a flexible two-floor layout, including a master bedroom with an ensuite and an L-shaped breakfast kitchen. Outside, a sweeping driveway leads to ample parking, a solar-panelled double garage, and extensive gardens with patios, a fire pit, and sculpture trails.
Why choose Pearson Ferrier to market your luxury properties?
With over a quarter of a century of experience presenting, marketing and selling luxury properties across the region – our specialists deploy a number of strategic marketing techniques to promote Black Label luxury properties, including:
Experience your property from a breathtaking new perspective with our advanced drone footage. Our drones capture the grandeur of your property and its surroundings, offering potential buyers a unique, sweeping overview that goes far beyond traditional photos.
Our virtual guided walk-throughs elevate your potential buyers' browsing experience and increase your property's appeal.
YouTube videos & Social Media Marketing
We utilise effective social media marketing and YouTube videos to market your property to our followers and the wider community.
Using professional photography, we'll ensure your property puts its best foot forward to dazzle viewers.
Finally, our professional concierge team are on-hand to schedule viewings, book appointments for you and make travel arrangements – to make the sales process as easy as possible.
Are you ready to step into the world of luxury real estate? Or perhaps you're a homeowner curious about the market value of your existing residence. Regardless, the Pearson Ferrier Black Label team are ready and waiting to offer you a personalised service tailored to your unique needs.
Don't wait. Give us a call on 0161 764 4440 or book an appointment with us here – let's turn your property dreams into a reality!