At Pearson Ferrier, our team has had the pleasure of helping families find their dream homes in Bury for over 25 years. That's a quarter of a century of negotiating sales, valuing properties and giving you the personalised, local market insights that you've come to know and love.

But why Bury? It's not just because many of our team have grown up here. The town has a unique blend of community spirit, great local amenities and a cultural richness that make it a genuinely great place to be. And that's why we've stuck around here for so long!
There's a great deal to love about this vibrant market town, so let's take a look at why Bury is the ideal location for families to settle down in…
Safety – The 4th safest place to live in the UK
Firstly, if you're a family looking to settle down in Bury then you'll be pleased to know that the town recently earned the title of the 4th safest place to live in the whole of the UK. An accolade that speaks for itself if you're considering raising a family here. 
Several metrics were considered in the research, including factors such as the average annual income, crime rates, and available recreational activities – all essential elements for a well-rounded, happy family life. The report also states that Bury residents enjoy a heightened sense of security, notably low incidences of crime in comparison to the rest of the UK.
It's not surprising then, that Bury was also crowned the happiest place for families in Greater Manchester. With a reputation like that, we're confident that families can find peace of mind and a sense of security here. 
Bury Market – A melting pot of culture and history

So the town has a market? Big deal, right? 
The reality is that Bury Market isn't just any old market. It's the biggest market in the North West. And a cultural icon of this town. Frequented by tens of thousands of visitors each week, Bury Market is oozing with colourful charisma, exotic produce and a bustling atmosphere. 
For families, it's more than just a place to shop – but an educational and cultural experience. Children can learn about different foods, cultures and even a bit of local history, all while you're checking things off your shopping list. Trust us, it's certainly an experience! 
And as radio presenter Stuart Maconie aptly described it in his 2007 book 'Pies and Prejudice': "Bury Market is a retail nirvana, rich with exotic bargains, a fabled bazaar, a veritable souk of the north!" – we have to say, he was spot on. 
Fun fact: Bury Market is so popular that coach operators even offer trips from major cities such as Liverpool, Manchester and Hull just to give people the chance to experience the buzzing atmosphere! 
Transport Links – Giving you the best of both worlds
Next on our list is the location. The truth is that Bury couldn't be any better suited to families. Situated less than 30 minutes from the heart of Manchester city centre, and yet just minutes away from the stunning oasis of countryside scenery – this town has the best of both worlds.
No car? No problem. The Bury Metrolink Tramline connects you to over 93 stations across 7 different lines in Greater Manchester, meaning it's incredibly easy to leave the car at home and get around cheaply. Alternatively, if you're in the mood for a scenic day out, the East Lancashire Railway line is a 12.5-mile heritage line running between Heywood, Bury, Burr's Country Park, Summerseat, Ramsbottom, Irwell Vale and Rawtenstall. Each of these offers stunning scenery, and the possibilities for unique and fun days out with the family are almost endless.
Shopping and leisure activities  – Endless choices!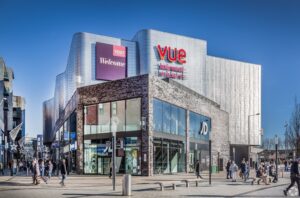 When it comes to shopping and leisure facilities, Bury stands out. In all of the right ways. Home to not one, but two major shopping centres, there's more than enough to keep bored teenagers and shopaholics satisfied here. The Rock and Millgate offer brilliant selections of contemporary high-street clothing chains, boutique stores and plenty of family-friendly eateries such as Nando's and Pizza Express.
As well as this, they're home to a Vue cinema, Hollywood Bowl, and the beloved Martini's On The Rock, which offers cocktails, a poker club, a pool hall and more. 
Having had major regeneration over the last decade, the high street is jam-packed with things to keep the family entertained and we're sure you won't run out of things to do! 
Schools & Education – Outperforming the national average
Finally, we understand how important it is to find out which schools are available in the area you're moving to. However, in Bury, this isn't a problem you'll need to worry about…
With 26 secondary schools, 69 primary schools and 3 exceptional private high schools, the area offers a wealth of educational options that are renowned for their quality. 
And the cherry on the top? The schools in Bury outperform the national average when it comes to GCSE scores. Giving you peace of mind that you're not just giving your family a nice place to grow up, but a strong foundation for their future, too.
Choose Pearson Ferrier 
So there you have it. Living in Bury means experiencing the best of both worlds. The tranquillity of a community-centred lifestyle just minutes away from the countryside, coupled with the convenience of city life and modern facilities. 
And with 25 years of property experience here, here at Pearson Ferrier, we're your local property experts. So for more information on beginning your property search in Bury or if you have any questions about making Bury your home – please ring us on 0161 764 4440 or drop us a message here!